Coming September 2022 -
The Eschatology of the
Restoration of All Things (book)
T
he
Restoration of All Things (book)
Mike's second book, the follow up to 2018's 'My Journey Beyond Beyond' is now available. It is available in print and as a
Kindle ebook
.
Where can I get my copy?


The Book Depository offers free delivery worldwide.

Barnes & Noble
have it available to order on their website in the USA, as do
Waterstones
in the UK. You may also wish to check Amazon* as they sometimes hold stock and can therefore offer improved delivery times.
The recommended price is £15.99 in the UK and $21.99 in the USA. Please do not pay significantly more than this (or the equivalent in
your own currency
)
Update: as of 25 January 2022, the
UK Amazon site
offers the book for £15.99 (with free delivery for Prime members)
. If you are not a Prime member, The Book Depository's higher price (£17.38 with free delivery) may still be a better deal.

*Note: amazon.com does not appear to stock the printed book, although many other local Amazon sites do! amazon.com only have it available from third party sellers on Amazon Marketplace – and in most cases at a higher price.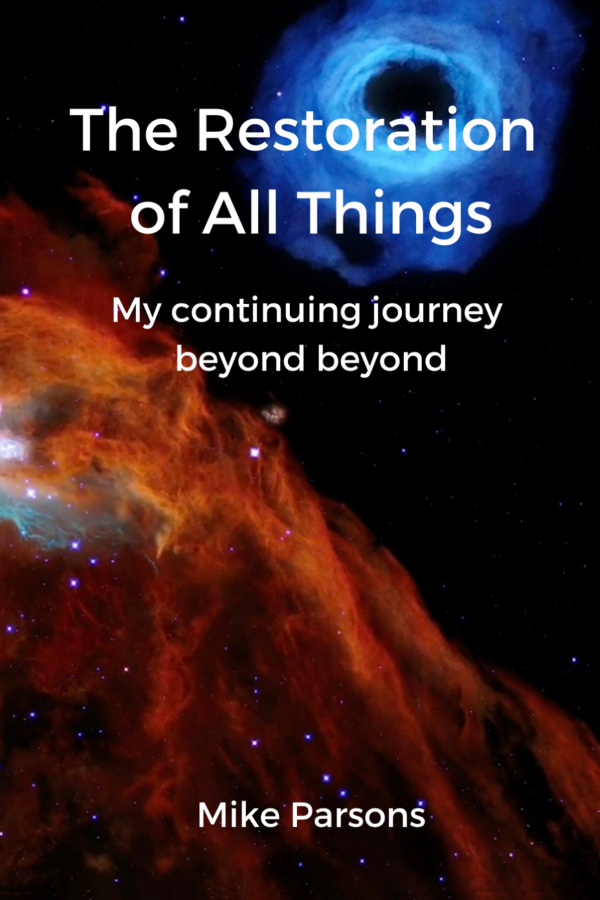 Kindle version
Amazon does have the Kindle version in the Kindle Store in all locations.
Kindle USA
|
Kindle UK
|
Kindle Canada
|
Kindle Australia
The Kindle version is only available from Amazon.
We would love some of our Kindle readers to leave reviews, especially to balance the negative one-star review on the US site! 😉
Thanks!
Publication details
To find the print book on other websites please search using ISBN or book title and author or use this information to order from your local bookseller:
Title: The Restoration of All Things
Author: Mike Parsons
Publisher: Choir Press (aka. Action Publishing Technology)
Publication date: April 5, 2021
Language: English
Paperback: 444 pages
ISBN-10: 1789632005
ISBN-13: 978-1789632002
My Journey Beyond Beyond (book)
You can also get Mike's previous book, My Journey Beyond Beyond, from your favourite online or local bookseller.
Check these out!
Get the recordings of our Restoration of All Things events from 2019, 2020 and 2021.
OR Save £30 GBP on the whole set
Pay in instalments if you wish
The Restoration of All Things 1, 2 and 3
Recordings of all 3 RoAT events from 2019, 2020 and 2021 for just £250 GBP

Browse all our teaching sets, events recordings and Engaging God modules*

*The most cost-effective way to access the Engaging God modules is with a £12 monthly subscription.
If you are an Engaging God subscriber, you DO NOT need to pay the prices for individual Engaging God modules indicated below. Please ensure you always login to obtain access to your modules and other titles you may have purchased. Choose 'mine' from the list below this box to see only titles in your own collection.
Subscribe to 'Engaging God'
All 13 'Engaging God' modules plus 'Meditation For Rest'

(over £2500 value)

included

in one low monthly, quarterly or annual subscription rate.



Created with